Streamline business operations with these technologies
Technology should enhance your business, not detract from it. When you partner with a professional integrator in Houston, your automation technology and commercial AV solutions will work seamlessly with your day to day operations. From more efficient collaboration to energy savings, a technology upgrade could have a huge impact on your company. Learn how a commercial AV system and a conference room automation system will enhance your Houston-area business.
Conference Room AV
Save downtime spent troubleshooting audio video equipment malfunctions that derail your meetings, and streamline collaboration with video conferencing and presentation software. Cut down on employee training, reduce the risk of equipment issues, and impress your staff and client alike. Stream content from your mobile device and impress the audience with automated presentations.
When you work with a professional, they will design and prepare the room for outstanding audio and video quality by carefully planning your equipment's locations and installing acoustic treatments to allow for crisper sound. Then they will work with you to select the best high-definition displays depending on the needs of their business, such as projector screens or flat screens.
Reduce labor and travel costs with a teleconferencing system that allows you to collaborate with staff and clients no matter where they are in the world. All telecommunications equipment is optimized to streamline online meetings, a vital tool as more businesses transition to remote work.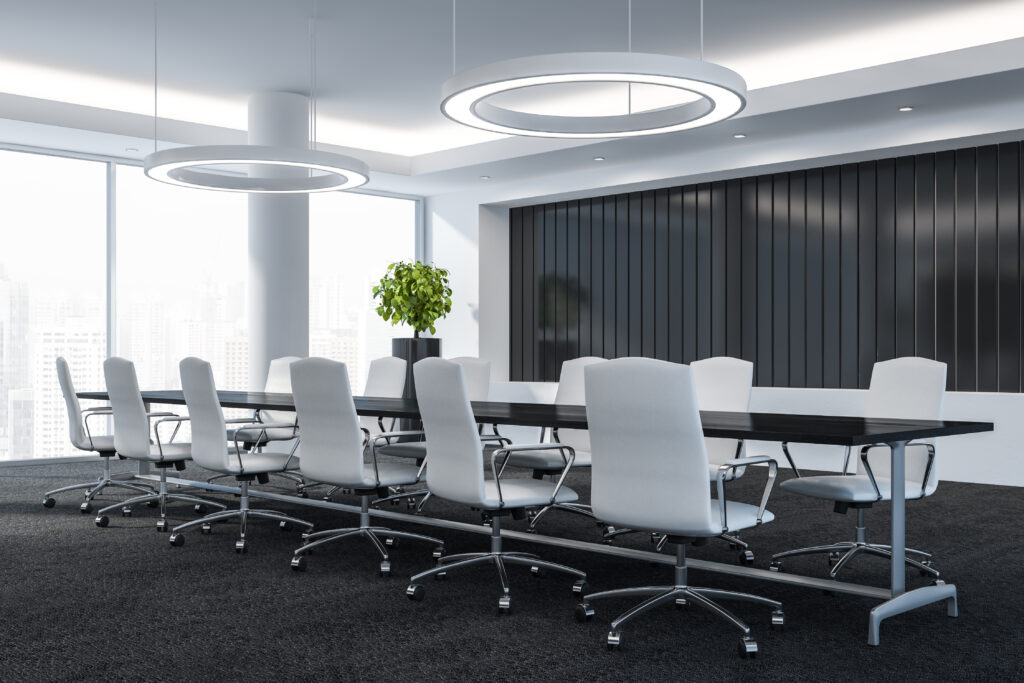 Conference Room Automation
Imagine being able to control all of the technology in your conference room with just the push of a button. Conference room automation does just that by connecting all of the technology in the room onto an easy to use integrated interface.
With just the push of a button, you can start a "Meeting" scene that closes the blinds, dims the lights, turns on the microphones, powers on the projector, and switches your smart display to your presentation.
This will do more than create the perfect working ambiance; commercial automation also increases energy-efficiency by carefully managing shading, lighting control, and climate control, saving you money on your monthly overhead.
Save time that would be spent fiddling with your technology, make your employee's lives more comfortable, and impress potential clients with your professionalism when you integrate your commercial technology.
Commercial security solutions also allow you to manage who has access to your property seamlessly, to monitor your surveillance cameras from anywhere in the world, and to arm or disarm your system with just the tap of a button. Commercial automation truly makes managing your business easier.
Unique HD is here to help you with all of your smart technology needs. If you think you need to upgrade your existing commercial audio video equipment or boost your business security, contact us or give us a call at (832) 331-2207. We would love to hear from you!